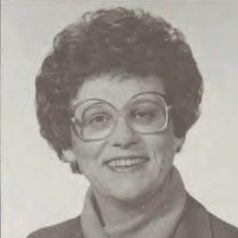 Dixalene Bahleda
Dixalene C. Bahleda joined the UW Oshkosh faculty in 1976 as an associate professor and assistant dean of the undergraduate program. She was appointed dean in 1980 and retired from UW Oshkosh in 1991. During her time at UW Oshkosh, Dixalene led the development of a degree completion program for working nurses, launched the college's nursing care center in 1986 and the nursing research center in 1984 and was instrumental in establishing a nursing honor society.
She received her nursing diploma from St. Mary's School of Nursing in Wausau, her bachelor's and master's degrees in nursing from the University of Minnesota, and her doctorate from UW-Madison. Before coming to UW Oshkosh, Dixalene served for seven years as a nursing faculty member for UW-Eau Claire and an instructor at St. Mary's School of Nursing. She was also a head nurse at St. Mary's Hospital in Wausau and a unit specialist at Wesley Memorial Hospital in Chicago.
Dixalene established the Dixalene Bahleda Nurse Care Scholarship in 1996. She passed away in 2000 and established the Dixalene C. Bahleda Leadership Award through an estate gift.