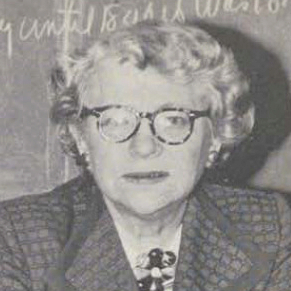 Family and Friends of Barbara Donner Monteith
The Barbara Donner Monteith Memorial Scholarship was established in 1976 to recognize outstanding scholarship in history. Dr. Barbara Donner-Monteith (1891-1974) joined the UW Oshkosh faculty in 1926 and was head of the history department, retiring in 1956 after 30 years of dedicated service. Dr. Donner was known as a dynamic lecturer and in addition to her official duties, she is credited for helping the college secure its first student center, Reeve Memorial Union. UW Oshkosh's Donner Hall is named after her.
Before joining UWO, she taught at several schools in Illinois and Tulsa, Oklahoma. She earned a bachelor's degree in mathematics from Valparaiso University in Indiana, received her doctorate from the University of Chicago, was a research fellow in Washington D.C., and attended the London School of Economics in 1936. She was a member of the Northeastern Wisconsin and Southeastern Wisconsin Educational Associations and the National Historical Society.