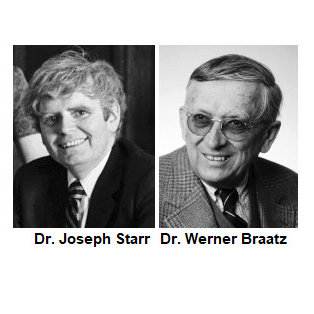 Family and Friends of Dr. Braatz and Dr. Starr
The scholarship is named in honor of Dr. Werner Braatz and Dr. Joseph Starr, two long-time members of the History Department. They inspired hundreds of students in history and historical research over the course of four decades at UW Oshkosh.
A member of the history faculty from 1959 to 1999, Dr. Braatz was an internationally recognized expert in the political and economic history of modern Germany. He taught a wide range of European history courses in his area of specialization. Given his bilingual upbringing as the son of German immigrants, he also taught courses in German literature and language. A former chair of the History Department, Dr. Braatz was an active scholar whose research was supported by three Fulbright grants to Germany, a Ford Foundation fellowship, a National Endowment for the Humanities grant, and a Deutscher Akademischer Austauschdienst (DAAD) research grant. Having trained as a graduate student of the renowned George Mosse at UW Madison, Dr. Braatz was one of the first American historians to develop a specialized undergraduate history course on the Holocaust. For his accomplishments in teaching, scholarship and service, Dr. Braatz was the recipient of the John McNaughton Rosebush University Professorship.
Joining the history faculty in 1965, New York City native Dr. Joseph Starr received his bachelor's, master's, and doctoral degrees at Trinity College, Dublin. From 1974 to 1986, he taught at Ripon College before returning to UW Oshkosh and teaching until his retirement in 1999. A specialist of Ireland and the United Kingdom, Dr. Starr riveted students through his lectures in medieval history, the history of the British Empire, Islamic history, and the history of the Near East. He published work on the Dublin police in the late eighteenth century and, with Dr. Braatz and other scholars, also co-edited the textbook, Manners, Morals and Movements: The History of European Man from 1500 to the Present (Berkeley: McCutchan Publishing, 1970).