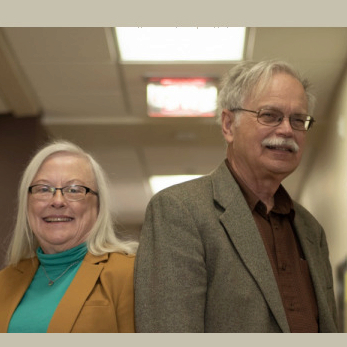 Joann & John Cross
Joann Noe Cross was a professor of accounting and co-chair of the accounting department at the University of Wisconsin Oshkosh. She received her Ph.D. from the University of Illinois Urbana in 1981. In 2014, Joann was awarded the Distinguished Career Award from the Wisconsin Institute of Certified Public Accountants.
John A. Cross was a professor in the Department of Geography at UW Oshkosh. He received his Ph.D. degree in geography from the University of Illinois. During John's 12 years on the College of Letters & Science administrative staff, he served as associate dean for the Math/Science and Social Science Divisions, while also managing summer session, student work study accounts, and providing budgetary oversight. Additionally, he also chaired the Institutional Animal Care and Use Committee for several years.
Joann and John both retired from the University on January 31, 2020, after 40 years of service to UW Oshkosh. They established the Accounting Faculty Scholarship and the Geography Faculty Scholarship in 2012 to support students in their respective fields.