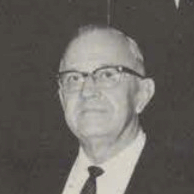 Lothar Iversen
Dr. Lothar Iversen (1905-1982) was a professor of finance and banking at UW Oshkosh, retiring in 1971. Prior to teaching, he worked as a state bank examiner and served in the U.S. Army during World War II in Alaska and Germany. Dr. Iversen earned a business degree from the University of Wisconsin-Madison in 1927 and a master's and Ph.D. from the University of Iowa. He was a member of the New Holstein American Legion Post 124, the New Holstein Historical Society, and the Wisconsin State Historical Society.
The Lothar I. Iversen Scholarship was established in memory of Lothar by his friends and associates. Through an estate gift, Dr. Iversen established the Adela Pfeiffer Iversen Memorial Scholarship, in honor of his mother. These scholarship funds were combined in 2022.
Adela Pfeiffer was born in 1873 in the Town of Calumet and was a resident of New Holstein for 54 years. She was married to Henry Sattler, who passed away in March 1925. Adela was married to John Iversen from October 1930 until his death in 1962. She had four sons: Bernhard Sattler, Rudolph Sattler, Henry Sattler, and Lothar Iversen. Adela was a member of St. Paul's Church. She passed away in January 1967.