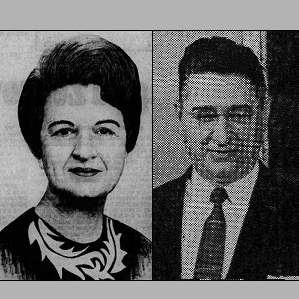 Lanore Netzer & Glen Eye
Lanore Netzer (1916-1998) graduated from the Oshkosh State Teachers College in 1943 and received her master's degree in 1948 and doctorate degree in 1951, both from the University of Wisconsin-Madison. She started her teaching career in a one-room school in Pound, WI in 1935. She went on to become a supervisor of student teaching and associate professor of education at UW-Milwaukee before joining the UW-Madison faculty in 1963 as a Professor of Educational Administration. Lanore retired in 1977 after 43 years of teaching, researching, writing, and serving Wisconsin. Lanore married Glen Eye in January 1979.
Glen Eye (1904-1997) received his bachelor's degree from Kansas Wesleyan University in 1925 and went on to earn his master's and Ph.D. degrees from the University of Wisconsin-Madison. He was a professor of education and former chairman of the Department of Educational Administration at UW-Madison and a former principal of Wisconsin High School in Madison. After a 50-year teaching career, Glen retired in 1975 as the Arvil S. Barr Professor Emeritus Honorary Chair. While Glen had served in many capacities on the UW-Madison campus, he found his greatest pleasure and satisfaction through teaching and being around students.
Lanore and Glen established the Donald Leo Netzer Scholarship, in 1989 in memory of her brother. The Lanore A. Netzer Scholarship was established in 1987.
Donald Leo Netzer (1914-1980) was a professor at the University of Wisconsin Oshkosh from 1963 to 1979. He taught geography and conversation and served as chairman of the Geography Department from 1969 to 1970. In 1977, Dr. Netzer received an award for his 25 years of outstanding contributions to conservation education from the Wisconsin Wildlife Federation. Prior to UWO, he taught at Ohio State, the University of Illinois, Butler University, and St. Cloud State. Dr. Netzer was a graduate of the University of Wisconsin, where he was a student of the famed conservationist Aldo Leopold. He earned a doctorate degree from the University of Illinois. He was a member of St. Peter's Catholic Church, the Knights of Columbus, the Winnebago Conservation Club, and the Honor Society of Sigma Xi.